Why choose a disposable vape pen over a reusable one?
If you're new to vaping or want to transition from smoking to vaping before investing in a reusable pen and e-liquids, then a disposable e-cigarette is a great entry-level vape. Disposable vape pens are also a great on the go solution when travelling, on a night out, or on holiday.
If you don't want to keep up with the maintenance of vaping, a disposable vape means you can use it straight out of the box with no charging, changing or filling necessary. Explore our range of vape kits.
What is a disposable Vape?
They are stylish, lightweight, pocket devices that offer the user a finite amount of puffs. Particularly desirable amongst new vapers who have recently switched from cigarettes to vaping due to their low maintenance and ease of use
Who are the recommended for?
Disposables are an excellent option for any smoker to quit smoking. Due to their relatively low cost, they allow new vapers to try vaping at a fraction of the cost of purchasing a more advanced kit
How does a disposable vape pen work?
Disposable e-cigs are an all in one solution - containing the device, coil and e-liquid in a handy kit. There's no need to refill or recharge the pen. Once the battery or liquid has run out, you dispose of the pen in a responsible manner and start vaping another one
Disposable vapes come with a fully pre-charged battery, meaning it's ready to use straight out the box. Unlike standard vape pens, the E-Liquid comes prefilled so theres no need to re-fill or change the vape coil. All you have to do is choose your flavour. With an inbuilt air-driven activation system, the vaping experience is seamless and removes the need for buttons to activate the pen, just inhale.
BEST SELLERS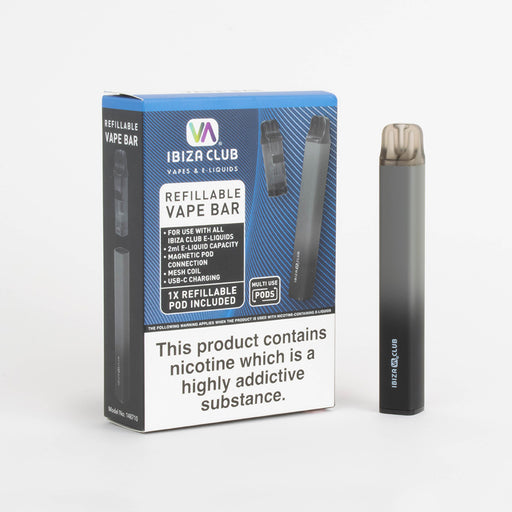 Original price
£14.99
-
Original price
£14.99
Our new Refillable Vape Bar kit offers the ultimate convenience for any kind of vaper.The innovative air-driven activation system, ergonomic design...
View full details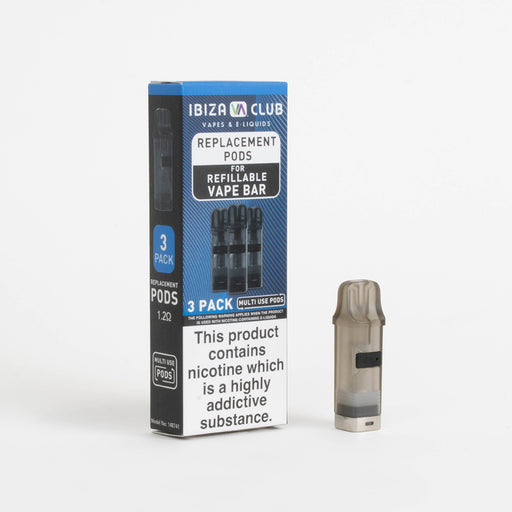 Original price
£9.99
-
Original price
£9.99
Each 2ml pod can be used multiple times, so there's no need to discard it after one use. Our pods are compatible with all Ibiza Club Bar E-Liquids ...
View full details